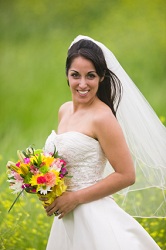 Marriage law in the State of Texas requires the parties of the marriage to obtain a marriage license from a county clerk. Both the bride and groom are required to be present at the time of application. There is a 72 hour waiting period for the license and a $36 fee (minimum) payable in cash only to receive the license. Once the license has been issued it is valid for 30 days and can only be used within the State of Texas.
Minors under the age of 14 are not allowed to marry in Texas, however applicants age 16 to 18 must have parental consent or a court order in order to marry or receive a marriage license from the state. Applicants 14 to 16 must have a court order to marry.

The marriage can be officiated by a rabbi, an ordained/license Christian minister or priest, any religious societies authorized person, justice of the peace, retired justice of the peace, or judge or magistrate of a federal court of this state, , a justice of the supreme court, judge of the court of criminal appeals, justice of the courts of appeals, judge of the district, county, and probate courts, judge of the county courts at law, judge of the courts of domestic relations, judge of the juvenile courts, retired justice or judge of those courts.
Proxy marriages are allowed in the State of Texas. Same sex marriages, cousin marriages and other incestuous relation marriages are considered void by the state as per the marriage law code.