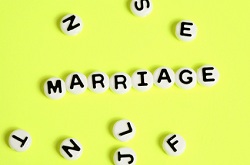 In order to get married in the State of Iowa, you must have a marriage license. Marriage licenses can be obtained from the county clerk or county recorder's office. In Iowa, both parties must be present to obtain a marriage license as well as one witness. If one or both of the parties are under the age of 18, then parental consent is required in order for a license to be issued. You should apply for your marriage license at least one month in advance, however Iowa marriage licenses expire after 6 months. You will not be issued an Iowa marriage license until after three business days have passed. Price varies from county to county. Both parties to the marriage must consent to the marriage.

Incestual marriages are not permitted in the State of Iowa; however the state does recognize common law marriage. Same sex marriages became legal in Iowa in 2009.
Your marriage certificate must be signed by a recognized officiating person. Ordained ministers of a church, as well as judges and judicial magistrates are able to marry a consenting couple. The officiating person must give the married party a copy of the license and report the marriage to the clerk that issued the license within 15 days of the marriage. The clerk will then record the marriage and return the marriage certificate to the married party.
You must also have two witnesses, who are over the age of 18, present at the wedding ceremony—the officiate can not be counted as a witness.
Marriage laws can change quit regularly, so check with your local county office to ensure you have the most up to date information on the marriage laws.