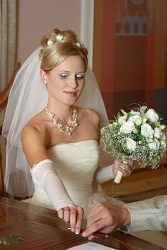 In order to marry in the State of Montana, you must have a valid marriage license issued by any clerk of the district court in any county in Montana. Both parties of the proposed marriage must be in attendance to apply for a marriage license. There is no waiting period for a license to be issued if both applicants are over the age of 18.
The bride of the marriage is required to take a rubella blood test, unless she is over the age of 50. There are no blood test requirements for the groom. If either party is under the age of 18, but not less than 15, they must have consent of both parents unless only one parent has custody. Those who are age 16 and 17 will have to attend two counseling sessions together at least 10 days apart with a designated counselor. The counselor must provide a letter about their opinion of the marriage to be forwarded to a judge for judicial consent. No one under the age of 15 may marry in the State of Montana.

A marriage ceremony may be made official by a judge of a court of record, a public official who can solemnize marriages, a mayor, city judge, justice of the peace, tribal judge, a clergy person active in their religion. The official of the ceremony must return the completed marriage certificate to the issuing office within 90 days of the ceremony. A marriage license in Montana is valid for 6 months.
The State of Montana recognizes proxy marriages and common law marriages. Montana does not recognize cousin marriages, incestuous marriages or same sex marriages and marriage licenses will not be issued to parties who intend on marrying in these fashions.