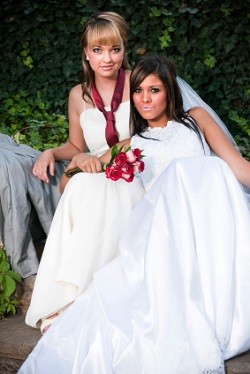 The Federal Government did not recognize same-sex marriages under DOMA (the Defense of Marriage Act). However, in June 2013 the Supreme Court found that section 3 of the DOMA, the section defining marriage, was unconstitutional.
Several states now recognize and issue licenses for gay marriages, while many others offer all or some state-level spousal rights to domestic partnerships. This recognition began with a landmark decision in November of 2003, when the highest court of Massachusetts handed down a decision that the prohibition of same-sex violated the state's constitution. On May 17, 2004, Massachusetts was the first state to provide marriage equality for gay couples by issuing marriage licenses.
It would take nearly three years before another state followed the example of Massachusetts. In October of 2007, Connecticut's Supreme Court voted in favor of gay marriages based upon the belief that not to do so would violate the rights of gay couples to receive equal protection under constitutional guarantees.

As early as 2005, Connecticut's legislature had decided to pass a same sex civil union bill, the first in the U.S. not pushed through by a court decision. This ruling paved the way for other states to follow suit, although it would take heated discussions and several years before much progress was made.
Although California's Supreme Court ruled that gay couples can marry in 2008, this ruling was initially put on hold due to the implementation of Proposition 8, an amendment to California's constitution that defined marriage as existing between a man and a woman. In 2010, the district court rules that Proposition 8 was unconstitutional. Eventually, the case was appealed to the Supreme Court, which ruled in 2013 that the proponents of the initiative did not have standing to appeal the district court's decision, so the district court's decision that Proposition 8 was unconstitutional stands.
While a Polk County judge in Iowa attempted to allow same-sex marriages in 2007, it wasn't until April of 2009 when Iowa's Supreme Court ruled that gay marriages can be performed within that state. By June, same-sex marriages began to take place within that state.
In April/May of 2009, Vermont's legislature is responsible for a statute that allows same-sex marriage, making it the first to implement one in this manner. The governor had vetoed the bill, but the legislature overrode his ruling.
Approving civil unions as early as January of 2008, New Hampshire becomes the sixth state to allow gay marriages in June of 2009. Maine would have been next, but a ballot-led repeal to this law quickly ended the ability for same-sex couples to marry in Maine, and Maine only recognized same sex marriages in December 2012.
The District of Columbia passed a resolution that same-sex marriages be recognized in April of 2009 and a law in December 2009. After the required Congressional review, the law took effect in March of 2010.
New York then joined those in support of same-sex marriages. In June of 2011, Governor Andrew Cuomo signed the legislation passed by the New York Assembly. Same-sex marriages can begin to take place in July, once thirty days have passed from the governor's signing of the law.
By now, same sex marriage is recognized in: Alaska, Arizona, California, Colorado, Connecticut, Delaware, Florida, Hawaii, Idaho, Illinois, Indiana, Iowa, Kansas, Maine, Maryland, Massachusetts, Minnesota, Montana, Nevada, New Hampshire, New Jersey, New Mexico, New York, North Carolina, Oklahoma, Oregon, Pennsylvania, Rhode Island, South Carolina, Utah, Vermont, Virginia, Washington, West Virginia, Wisconsin, and Wyoming.