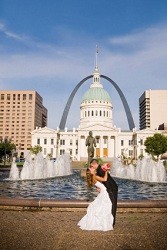 In order to marry in the State of Missouri, you must first obtain a marriage license. Both the bride and groom to be are required to be in attendance when applying for a marriage license. There is a three-day waiting period for a license and the license will remain valid for 30 days after the date of issuance.
If one or both of the parties are under the age of 18, then they must provide parental or custodial consent before being married. Anyone under the age of 15 may not marry without the approval of a judge in the county where the license is applied for. The judge may only grant approval for good cause. People with mental handicaps may not marry without court approval.

A Missouri marriage may be solemnized by a member of the clergy in good standing, a circuit court judge, associate circuit court judge, a religious society or organization. The officiate of the marriage must send in a completed marriage certificate within 90 days of the wedding to the office that issued the license.
Missouri marriage law does not recognize common law marriages, but will recognize those validated in other states and those that were entered into before 1921 in the State of Missouri. Missouri marriage law also does not recognize cousin or incestuous marriages or same sex marriages, however proxy marriages are deemed valid.
The marriage license laws in Missouri could change on a fairly regular basis. It is best to check with your local county office to see if any alterations have been made to the Missouri marriage law. The clerk at the office will be able to tell you if any major amendments have been made in recent time that could affect your wedding plans.