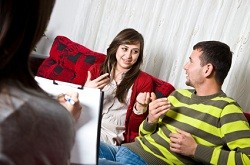 Marriage is an exciting prospect. It is natural for an engaged couple to become wrapped up in the excitement and to immerse themselves in planning the big day. However, as they revel in their love for each other, a couple may neglect to adequately prepare themselves for the responsibilities that come with marriage and for the expectations of their future spouse.
That's where premarital counseling comes in. It is common for engaged couples to seek premarital counseling leading up to the day of the wedding. In many cases, this counseling takes place with the minister who will be performing the wedding ceremony. In other cases, especially if the ceremony is not going to be performed by a member of the clergy, a professional counselor may be consulted.

The purpose of premarital counseling is to better prepare the couple for the transition to married life. Premarital counseling also helps equip the bride and groom to be the best spouses they can be.
Within the context of the premarital counseling sessions, the couple may be asked to discuss issues that would have gone unaddressed otherwise. Often, these unaddressed issues have the potential to lead to serious marital conflicts and possibly even divorce. By confronting these issues ahead of time, before the marriage even begins, the couple can discuss them calmly and rationally. They can work through any differences of opinion and can flag any potential threats to their relationship.
In premarital counseling, the bride and groom may be asked to discuss their personal expectations for each other. They may also discuss their financial practices, including current debt, how to prepare a budget, and who will be responsible for handling the money. Plus, they may learn valuable techniques for conflict resolution.
An important area of discussion is the area of family. How do the bride and groom relate to their future in-laws? Has the couple discussed their own plans for starting a family? What parenting model will be practiced in their home? Which (if any) faith or religion will be observed in their home? By discussing these types of questions in premarital counseling, future conflicts may be avoided.
The specific format and content of the premarital counseling sessions will be set by the counselor. During the initial discussion with a prospective counselor, the couple should clarify what will be expected of them and what will be expected of the counselor. This should include the number and length of the sessions as well as any fees or remuneration that may be required.
Most couples find premarital counseling to be beneficial for their relationship. Though it may sound intimidating at first, they find that the sessions enrich and strengthen their future marriage.